XL Free Range Eggs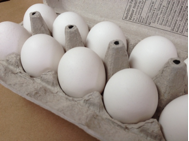 I know "eggs?" you say, but if you are making a cheese omelet what do you need? Eggs of course!

Halloumi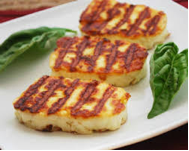 Halloumi cheese, sometimes just called "grilling cheese is a delicious and uniquely grillable cheese. Halloumi should be warmed, grilled, or otherwise fired up in order to really be enjoyed. Cooked, the saltiness fades into a strong savory bite, with a slightly creamy texture.

Burrata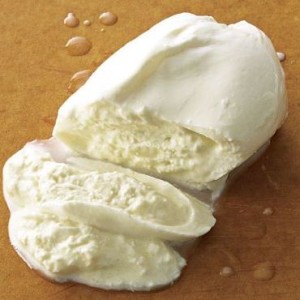 Not new but back for tomato season! Burrata is a fresh Italian cheese made from mozzarella and cream. The outer shell is solid mozzarella, while the inside contains both mozzarella and cream, giving it an unusual, soft and yummy texture.

Bocconcini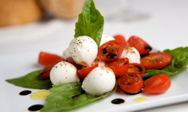 BACK FOR SUMMER SALAD SEASON! As tomato season ramps up so will my supply of this wonderful fresh cheese.

Tête à Papineau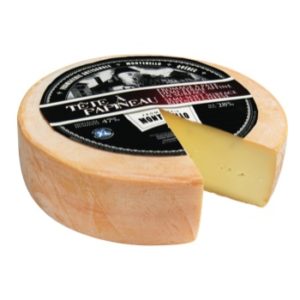 A semi-soft pasteurized cow's milk cheese. This washed rind cheese is ripened 60 days. It has a pinkish rind and a flexible ivory texture.
It has fresh cream, half-salted butter, dry hay and hazelnut flavours.

9 year old Cheddar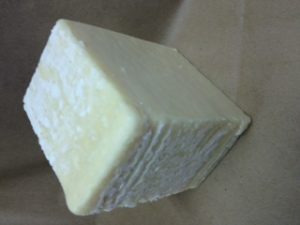 I was able to get my hands on this lovely cheddar. Not for the faint of heart as it bites back! A year short of being twice as good as my 5 year cheddar you have come to know and love.

A Smoked Cheddar and an Onion Cheddar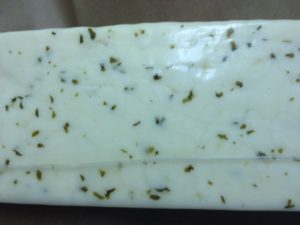 I have brought a limited amount of each of these cheeses, to again get your impressions. I think they will both nicely complement the arrival of warmer weather and of course BBQ season!!

Caribbean Cheddar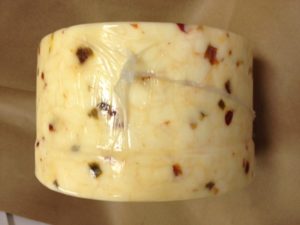 This one comes with a bit of heat mixed with a little sun dried tomato spark! Great any time but particularly a nice summer sizzler!

Kaltbach Le Chevre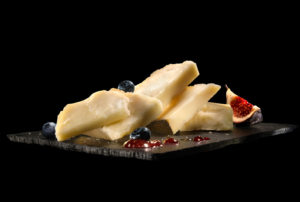 ETA Late September OR THERE ABOUTS!!!
A firm, creamy and crumbly texture. Described to have a well balanced delicate aroma, combined with fruity walnut tones!

Aged Goat Gouda!! IS BACK!!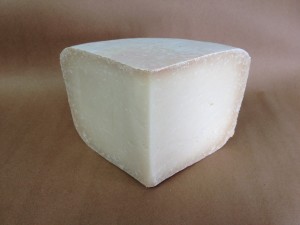 A wonderful addition to my Gouda and Goat line-up. Chalky in colour, bit crumbly, with a little bit of a bite! Great on its own or can be used as a grating cheese on your favourite pasta dish or salad!

Piri Piri Goat Gouda IS BACK!!

Piri piri is the Swahili word for 'pepper pepper', and what a great addition to this goat gouda!! Like all chili peppers, piri piri is descended from South American cultivars, but piri piri has grown in the wild in Africa for centuries and is now cultivated commercially in Zambia, Uganda, Malawi, and Zimbabwe. The addition of this spice to the Gouda provides a little heat but it is not to assertive. This cheese makes a great pairing partner for red wines!

Aged Curry Mustard Goat Gouda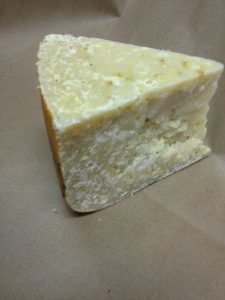 Sounded interesting so we brought a wee bit in to see what you thought. This makes another wonderful new arrival to my Gouda and Goat line-up. Yellowish in colour, bit crumbly, with a little bit of a mustard curry bite (surprising I know)! Great on its own or can be used as a grating cheese on your favourite pasta dish or salad!

Aged Havarti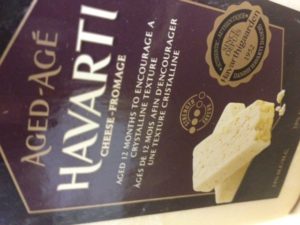 This cheese is matured for 12 months.  During the long maturation a crumbly but creamy texture with a tangy, rich, buttery taste is created. During the ripening process small crystals form resulting in an incredible taste experience.

Tomme with Elder Flowers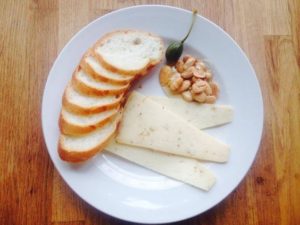 Tommes, as the story goes, are made by alpine cow herders during the winter, when milk is scarce and the nutrient concentrations in the milk is markedly different. Tommes were originally meant for the family versus something sold at market. As such the wheels are smaller than their summertime counterparts, they are aged for fewer months, and their interior is more creamy and fragile. Tommes tend to be grassy in flavor with an unctuous texture. This Tomme with Elder Flowers will be a must try!

Vintage Applewood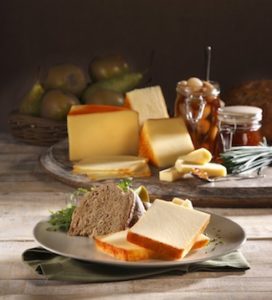 If you like our regular Applewood Cheddar you are going to love the extra smokey flavour of the Vintage Classique!

Sicilian Spreads – Blood Orange, Pear & Strawberry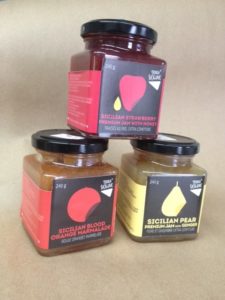 All the Terra Siciliae jams are truly gems of Sicily. You can almost taste the hot sun and cool night breezes on the slopes of Mt. Etna in every bite! It should also be noted artificial colours, preservatives or flavours are nowhere to be found!

Kalamalta Fig Spread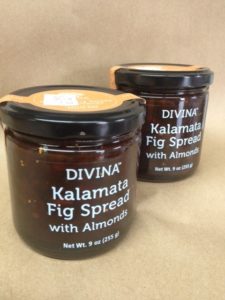 A sweet, smokey and nutty blend of Greek Kalamata olives, Aegean figs, almonds and balsamic vinegar. A versatile cheese pairing jam!

Blue Di Capra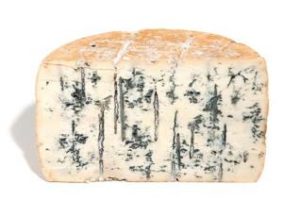 A "Goat Gorgonzola" produced using raw goat's milk. It is aged approximately 60-90 days. The colour is straw-yellow with greenish blue-veining. Very tasty & a little bit sharp, the aromas are complex and persistent, and a delightfully clean, lemony finish with hints of fresh, sweet goat's milk!

Nero Imperiale W/Balsamic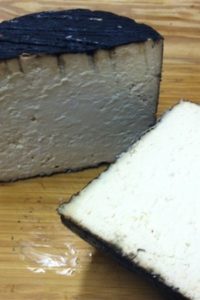 Has a rough rind the colour typical of balsamic vinegar. The paste is chalky and white in the centre. The flavour has both sweet and sour notes, one of vinegar (full of that aroma and its nuances) and the sweet, milky flavour of the cheese itself (but with a hint of acidity). The union of these two tastes is extremely balanced and pleasant to the palate.

Coppa, Pancetta and Salame Piacentino

Straight from Italy! Only products whose characteristics are inherently dependent on their production area are awarded the "Protected Designation of Origin" registration by the European Commission. Coppa Piacentina, Pancetta Piacentina and Salame Piacentino obtained the PDO in 1996! Give these a try with your next cheese platter!

Honey from Honeyview Farms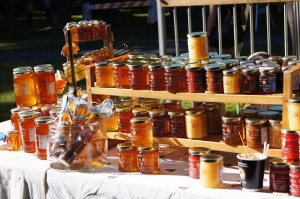 The perfect pairing honey and cheese! Runny and unpasturized! Who would have thought! All of Honeyview's honey is produced locally by their own bees! Ask me about what cheese & what honey to select when creating your perfect pairing! The 60oz size is perfect size for single event pairings, gift baskets or hostess gifts!!

~Cheese Man Gifts!~
Our Cheese Bags are Back!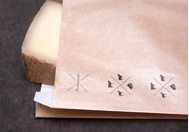 Tired of spending too much time wrapping your cheese? Then say hello to cheese bags. Our bags are manufactured in France and specifically designed to keep your cheese fresh longer. The unique material allows cheese to breath while maintaining optimal humidity! These make excellent gifts for those cheese lovers in your family!

Cheese Cutters, 3 Piece Cheese & Condiment Serving Set, Cheese Tags, Big Cheese Hats and Big Cheese Mugs!
Everything you need for the "Big Cheese" in your life!