In order to get you to try something new, we always feature one or more cheeses at discounted prices.  You get a deal and you may find a new favourite.  Visit us in-store for exact pricing.
Check this site regularly for new tasty treats or sign up for
The Cheese Man E-Newsletter to be kept informed!
To encourage you to try two of our new cheeses we have put special pricing on the following cheeses ~
Fourme d'Ambert
A semi-hard French blue cheese. This blue comes from the Auvergne region of France and as I like to say "it's not too creamy and it's not too sharp, it's just right".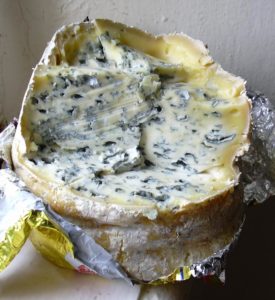 Morbier
The cheese is ivory in colour with a soft and elastic texture. A purplish layer of tasteless liquid ash, horizontally separates the cheese. It has a slight aroma plus a rich and creamy flavour.