Tête de Moine
Tête de Moine is from the Jura region of Switzerland, more specifically the Bellelay Abbey. Its name, which means "Monk's Head", is believed to be derived from the tax levied by the abbey, whereby the farmers would provide one cheese for each monk.
The cheese is eaten in an unusual way: it must be carefully scraped with a knife in order to develop its scented flavours. In 1982 the girolle was invented; this is an apparatus, which creates rosettes, ensuring that more air comes in contact with the cheese surface.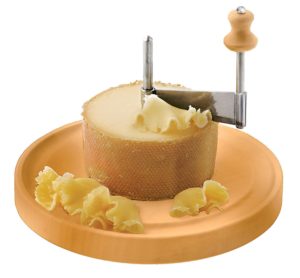 This allows for the full, rich flavor of the cheese to be enjoyed.
If you need to borrow a girolle let us know and we will put one aside for you.